2001 Ultra Walk Results and Photos
Although there is no Centurion walk being held in Australia in 2001, that does not mean that there is no long distance walking taking place.
6-7 January 2001, Coastal Classic 12 Hour Event, Gosford, NSW
The fourth annual running/walking of the Coastal Classic was held at Adcock Park, West Gosford, NSW. A field of thirty athletes greeted the starter with a roughly equal mixture of walkers and runners. The start time of 7PM and the smooth grass track make this a favourite event of many people.
In the walk division, Carol Baird (C 39) and training partner Robin Whyte (C 29) started off together and Robin only started to drop behind after some 7 to 8 hours. Things might have been a bit different if Keith Knox had not missed the start by some 15 minutes. Keith is a long time NSW 50 Km walker and he had finally succumbed to the temptation and entered an ultradistance walk. He perhaps made the mistake of chasing too hard early in an attempt to bridge the gap to Carol and Robin. By the half way mark he had just about done it but started to fade alongside Robin soon afterwards.
Carol showed superb control and endurance to win once again with a new Australian Ladies 50 Mile Walk record. Her distance for 12 hours was also a big PB. Behind her, Keith just edged out Robin in a fine first up ultra walk. Robin for his part walked his usual consistent race and was rewarded with another fine finish.
It was also good to see John Harris (C 12) getting back into training and making the trip down from Brisbane for a surpise performance. His distance of 82km was a very good first up. Best performances were as follows

Carol Baird
Keith Knox
Robin Whyte
John Harris
Julie Schrag
97.2904 km
93.1014 km
92.4904 km
82.1714 km
70.1977 km
Carol Baird set a new Australian Residential Record for 50 miles. Carol completed the distance in 09:42:06.


7-8 April 2001, Coburg Athletics Track, Coburg, Victoria
This annual race, hosted by Coburg Harriers, saw a field of a large field of over 30 runners and walkers competing in 3 separate races over 6 hours, 12 hours and 24 hours. The race started at 10 AM on the Saturday morning. The venue was once again the Coburg Athletics Track in Melbourne and the weather was kind – it stayed mild and mostly overcast for the full 24 hours of the event.
There were 3 walkers in this event and 3 excellent performances were seen.
Michael Harvey came into this race after a fine 100 km completed in the 2000 Australian Centurions 24 Hour event. In that race, he had gone out too hard and paid the penalty and on this occasion, he had adopted a different mindset that included finishing. Evan after saying that, he still set off at a pace not normally seen in such events and reached the 50 km mark inside 5 hours. But from then on, he had to draw on strengths not normally tapped. With a good support crew, he dropped his pace, took regular breaks and was not far short of 100 km at the 12 hour mark. From then on, it was a hard slog but he always had time on his side and he reached the 100 mile mark in 22:51:30.
Fred Brooks, at the age of 67, had set himself the challenge of becoming Australia's oldest Centurion. He had watched Merv Lockyer complete his 100 mile in 1996 at the age of 65 and had been inspired to have a go himself. Fred had been a very good walker in England in the fifties and early sixties before migrating to Australia and putting his efforts to work and family. Now after over 30 years break from walking, he was back into his stride and walking confidently and strongly at an opening rate of 3 minute laps. During the whole 24 hours, his pace never really rose above 3:20 laps and his two 50 mile splits were quite even. He passed a tiring Michael Harvey with a couple of hours to go and stormed home in 22:31:15. Fred's performance also qualified for new Australian Ultra records for the 65+ group for 12 hours, 50 miles, 100 km and 100 miles even though he walked rather than ran!
The third walker was
Stan Miskin (C 23)
, already an Australian Centurion and now 75 years of age. In the early 90's, he retired and moved from Melbourne to Queensland. In 2000, he sold up and returned to Melbourne and found himself living near Fred Brooks. So it was back into the training shoes - he had already been toying with the idea of a final big walk. In October 2000, he travelled to Adelaide and completed 120 km in the Sri Chimnoy 24 hour event. Then back to some more training and onto this event in April. His target - to break the Australian Ultra Distance records for the 75+ age groups. Of course, these were running records and Stan would be walking - but they seemed achievable targets.
And Stan was successful in his aim. His final distance was 142.391 km, blitzing the previous record of 132.8 km, held by Aussie running legend Drew Kettle. Along he way, he also broke Drew's records for 12 hour, 50 miles and 100 km. A fitting achievement at the age of 75!

Fred Brooks
Michael Harvey
Stan Miskin

VIC
VIC
VIC

22:31:15
22:51:30
142.391 km
C42
C43
C23
Australia's oldest Centurion performance - 67 years of age

Completed 142 km in 24 hours at 75 years of age - beat that!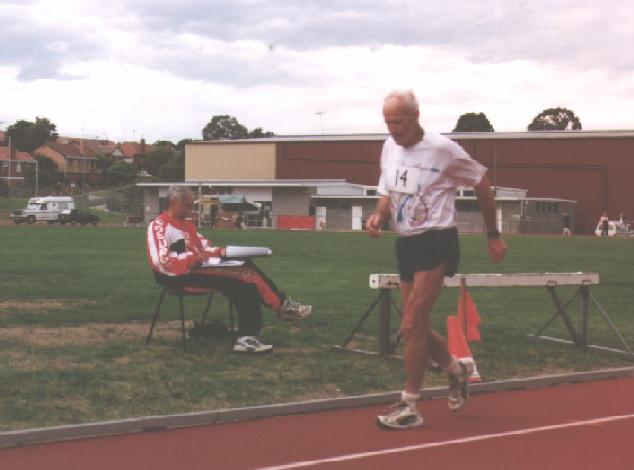 Fred Brooks (C 42)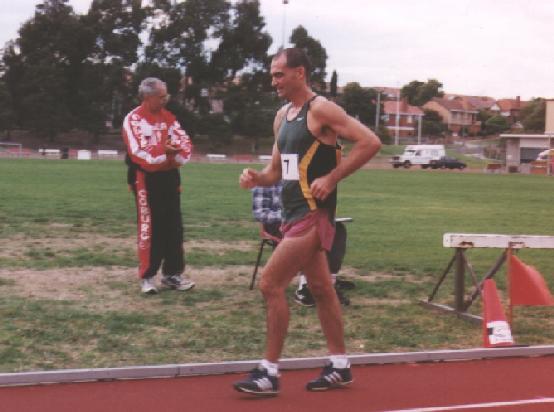 Michael Harvey (C 43)

A couple of shots of Stan Miskin striding out towards his new Australian 75+ record performance. Shown with him is 12 hour competitor Karyn Bollen (number 33) who came back in 2002 to become Australian Centurion 45 with a fabulous 100 mile walk.