The Australian Centurions
were formed in 1971 to honour the feat of those athletes who walk 100 Miles within 24 hours on Australian shores. Yep...that's right...WALK 100 MILES WITHIN 24 HOURS..

We now have 70 members of this exclusive club, the first in 1938 (Gordon Smith - C 1) and the most recent in 2013. Who will be next?

Select any of the pages listed above to find out more about our club and the exclusive world of long distance walking.


LE CERCLE DES MARCHEURS DISPARUS
by Alain Moulinet, published March 2017

I've just received my copy of this fascinating book documenting the history of competitors who have completed the historic Paris Colmar race and the qualifying races that go with it. While it is in French, the tables of race results are very easily understood and the photos are fantastic.

To order your copy, go to the author's website at http://editionslemarcheur.fr. The book costs 23 euros plus 6 euros for postage anywhere in the world - now that's good value.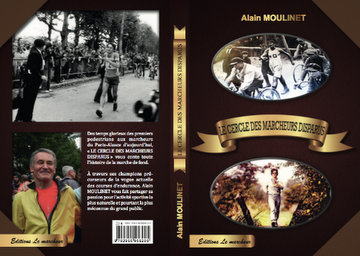 Canberra 48 Hour Carnival, Canberra, 17-19 March 2017

The annual Canberra 48 Hour Carnival, which was held as the AIS track in mid March, has quickly become the biggest track ultra in Australia. With 113 starters in events ranging over 48 Hours, 24 Hours, 12 Hours, 6 Hours and Marathon, it was a huge affair with lanes 1, 3 and 5 all being used to spread out the many entrants. And of course, there were a small number of walkers in attendance, doing their thing.

The walking highlight came from sisters

Linda and Heather Christison

who walked together the whole way to a total distance of

236.703km

. What makes this effort even more amazing is that Linda was training to go under 2:50 in 2004 when she began to lose co-ordination and was diagnosed with early onset Parkinson's disease. She can no longer run but walks well using a walking stick. Last year, she and Heather walked together the whole way in this event to a final distance of 219.496km to set inaugural Australian W50 (Heather) and W66 (Linda) 200km and 48 Hour records. This time around, they have upped the ante considerably with even more impressive walks and new records.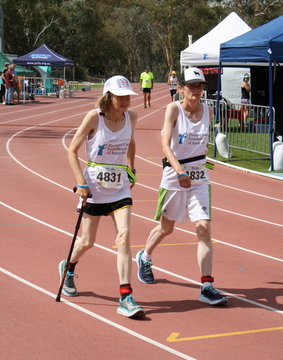 Coburg 6 Hour Championships, Coburg, Sunday 6 March 2017
The 2017 Coburg 6 Hour Track Championships were held on Sunday 5th March at the George Knott Reserve in Coburg, a northern Melbourne suburb. This annual event includes both run and walk divisions and always sees a smattering of our ultra distance walkers in attendance. I was there keeping a business eye on things as usual and all turned out well, with the weather kind and with a total of 35 starters (25 runners and 10 walkers) toeing the start line for the 6AM start. You might think 6AM a bit early to start but it was a good decision, with the sun breaking though the cloud at around 10:45AM, meaning the runners and walkers only had to worry about a relatively small period of tough conditions. As usual, runners contested in lane 2, with walkers in lane 3.

Overall, Australia's best ultra walker

Michelle Thompson

won easily with 54.639km while

Robin Whyte

won the men's division with 49.406km, breaking the current Australian M75 record.

John Kilmartin

(48.738km),

Albin Hess

(46.148km) and

Karyn O'Neill

(45.738km) all walked well and were each close to their respective PBs.
Coburg 6 Hour Walk - Men

1

Robin Whyte

NSW

49.406 km

2

John Kilmartin

VIC

48.738km

3

Albin Hess

VIC

46.148 km

4

John Timms

VIC

38.287 km

5

Saul Richardson

ACT

37.117 km

6

Ken Carter

VIC

22.078 km

Coburg 6 Hour Walk - Women
1

Michelle Thompson (C58)

VIC

54.639 km

2
Karyn O'Neill

VIC

45.738 km

3
Dawn Parris

VIC

40.748 km

4

Kate Sanderson

VIC

36.215 km

| | | |
| --- | --- | --- |
| | | |
| Michelle Thompson | Karyn O'Neill | Dawn Parris |
| | | |
| Robin Whyte | John Kilmartin | Albin Hess |


To contact me, send a mail item to

Tim Erickson (terick@melbpc.org.au) Secretary
Australian Centurion Walkers Inc.
Incorporated 2000, No. A0040301S
Melbourne, Australia