2004 Yearly Report
2004 Australian Centurions 24 Hour Event
17-18 April 2004
Coburg Athletics Track, Coburg, Melbourne
This event was a combined run/walk event with the Australian Centurions joining with the Coburg Harriers as co-hosts. 43 starters fronted the line with competitors split across the following divisions
6 Hour Run
12 Hour Run
24 Hour Run
6 Hour Walk
12 Hour Walk
24 Hour Walk
8
3
19
4
2
7

After scorching conditions the previous year, 2004 saw cool blustery conditions on the Saturday followed by a cold night with intermittent drizzling rain. The Sunday morning was cool and overcast, providing perfect conditions for those still on the track.
The number of older runners and walkers in this event – Ken Matchett (82), Stan Miskin (78), Shirley Young (74), Ellwyn Miskin (74), David Padgett (72), Fred Brooks (70), George Audley (68), Ron McGregor (62), David Jones (62) and John Timms (61) – must form some sort of record!
As usual, the walkers provided their own particular brand of excitement with two new Centurions completing the 100 mile walk within 24 hours.
Bob Lee (C 47), aged 49, is New Zealand Centurion Number 5, achieved with a time of 22:06:26 in July 2000. Bob has also achieved the 100 mile run within 24 hours on two occasions so is one of that rare breed of ultra distance competitors who seems equally at home walking or running. He moved to Melbourne about 18 months ago, now lives in St Kilda and is a member of Coburg Harriers. He walked confidently to his second Centurion badge, this time passing the mark in 22:44:44. His finish never looked in doubt.
Graham Watt (C 48), aged 27, is a local Melbourne walker and a member of the Box Hill Athletics Club. He was a regular Interclub and VRWC walker until the last few years when family commitments (Graham and his wife Maria have 2 small children now) took his priorities elsewhere. But he always harboured the desire to become a centurion and this year the dream came true. Sometimes it takes determination and perseverance to gain this ultimate of prizes and Graham is a prime example of how to keep striving for what you want. He failed 5 times in a row - 1998 54.8 km, 1999 66.8 km. 2000 60.0 km, 2002 97.2 km and 2003 100.8km - leading up to this year. His 2004 100 mile time of 23:59:23 is the closest shave of any attempt. But what makes it even more amazing is the fact that he passed the 50 mile mark in 12:20:33 and looked to have lost all chances of reaching the required milestone. His second 50 mile split of 11:38:52 was over 40 minutes faster and set up an awesome finish as he pulled out all stops to beat the final gun. He covered 23 laps in the last 2 hours – easily the fastest period of his race. He was unable even to walk after the finish, such was the effort he had expended. His performance is one that will stick forever in my mind.
The Jack Webber Trophy was awarded to Graham Watt for the most meritorious walking performance of the day.
A number of Centurions participated in the run with Carol Baird winning the overall title with 189.292 km, Karyn Bollen coming third in the 24 Hour Run for women with 140.4 km and George Audley completing 84.9 km.
Walk results were as follows
24 HOUR WALK

1
2
3
4
5
6

Bob Lee
Graham Watt
Stan Miskin
Ron McGregor
John Timms
Fred Brooks

NZ
VIC
VIC
VIC
VIC
VIC

162.220
160.939
135.306
134.800
112.891
90.000

C47 **
C48 **
C23


C42

1

Dian Goodger

SA

101.200



12 HOUR WALK
1
2

Laurie Tinson
Ken Carter

VIC
VIC

73.600
58.400

6 HOUR WALK
1

Glyn DeWilliams

VIC

38.000

1
2
3

Barbara Tucker
Sandra Howorth
Ellwyn Miskin

VIC
VIC
VIC

46.000
42.800
39.200

CENTURION WALK QUALIFIERS

C47
C48

Bob Lee
Graham Watt

NZ
VIC

22:44:44
23:59:23

The Jack Webber Trophy was awarded to Graham Watt for the most meritorious Centurion performance on the day
New centurions Graham Watt (C 48) and Bob Lee (C 47)

Sri Chimnoy 24 Hour Festival, 16-17 October 2004, Adelaide, SA
Geoff Hain (C 49) has been running ultras for many years, is 58 years old and lives currently on the Gold Coast in Queensland. He has competed in seven 24 hours runs and has achieved the magic 100 mile status on five occasions with distances between 161.5 km to 170.5km.
For some time he had dreamed of achieving Centurion membership and so with only five weeks preparation, he entered and walked the Gold Coast 24 hour in mid August to test himself out. In an excellent first up effort, he reached over 82 km in 12 hours and stopped after 100km in 15h25m. His heels were very sore and he was obviously not going to make the 100mile in time.
On his second walking attempt in Adelaide, he reached 81 km in 10:52:51, 88 km in 12 hours, 100 km in 13:46:10 and the rest is history – he reached his 100 mile goal in around 23 hours 30 mins and continued on to reach 162.000 km within the 24 hour period.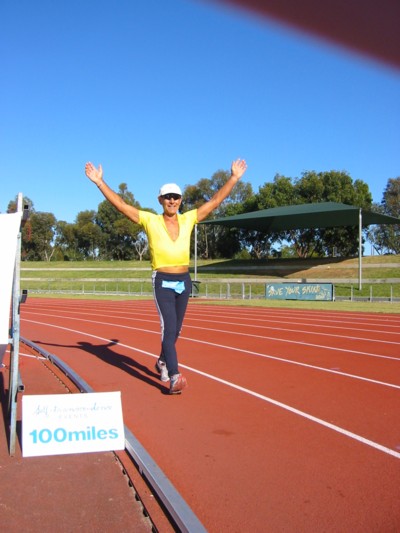 New Centurion Geoff Hain (C 49)

Geoff becomes the 9th ultra distance athlete who has separately run and walked the 100 mile distance within 24 hours. Others are Claude Martin, Jim Turnbull, George Audley, Stan Miskin, Yiannis Kouros, Sandra Brown, Carol Baird and Lyn Lewis.
CENTURION WALK QUALIFIER

| | | | |
| --- | --- | --- | --- |
| C49 ** | Geoff Hain | QLD | 23:30:38 |