2016 Yearly Report



Michelle Thompson excels in Roubaix 28 Hour Walk - September 2016

The annual 28 Heures de Roubaix in September 2016 saw the first ever participation by an Australian, with

Michelle Thompson (C58)

amongst the 40 starters. She was a clear winner, walking 51.5km in her first 6 hours, taking 12:24:48 for 100km and then finally slowing as the night arrived, reaching the 100 mile mark in 21:49:53 and clocking 175.904km in the first 24 hours. She finished 10th overall with a distance of

198.647km

for the full 28 hours. She had looked set to better 200km but could only manage 23km in the final 4 hours (10km in the last 2 hours) as the fatigue factor took its toll. Such is the nature of this sort of super-endurance event.



Justin Scholz completes his 8th centurion walk - June 2016

Congratulations to
Justin Scholz (C 61)
for his latest 100 mile walk, done in Campbelltown, NSW, on the weekend of 18-19 June 2016. One of a number of walkers in the Sri Chinmoy 24 Hour Championship field, he recorded a time of
20:43:51
for his 8th hundred and his second for this year.

Australians qualify in Schiedam - May 2016

Australian Centurions
Justin Scholz (C 61), Sharon Scholz (C 63)
and
John Kilmartin (C 67)
all completed 100 mile walks in Schiedam, Holland, on 14-15 May 2016 to become Continental Centurions. This makes 4 centurion badges for Justin and Sharon (Australian, USA, NZ and Continental) and 3 for John (Australian, English and Continental). Well done walkers - amazing performances as usual!
| | | |
| --- | --- | --- |
| Sharon Scholz | 21:45:13 | CC436 |
| Justin Scholz | 21:45:13 | CC437 |
| John Kilmartin | 23:05:24 | CC440 |

Welcome to our 3 new Australian Centurions, 16-17 April 2016

I am very excited to announce that we have 3 new Australian Centurions as a result of our annual qualifying event that was held last weekend at the Coburg Harriers track in Melbourne. Overall we had 4 walkers who walked 100 miles or more in the required 24 hour period. They were
| | | | |
| --- | --- | --- | --- |
| Michelle Thompson | AUS | C58 | 20:28:57 |
| Rob Robertson | USA | C68 | 23:13:53 |
| Sandra de Graaff | NED | C69 | 23:45:32 |
| Bertus van Ginkel | NED | C70 | 23:46:36 |

First African Centurions Walk to be held in October 2016

Philip van der Merwe has announced that the inaugural African Centurion 24 Hour Walk to be held on Robben Island, South Africa on 22 October 2016.
What an iconic venue!
He advises their website will be online soon. In the meanwhile, here is their press release:

AfricanCenturion2016.pdf

Coburg 6 Hour Championships, Coburg, Sunday 6 March 2016
Another great set of results from the 2016 Coburg 6 Hour Championships, contested on Sunday 6th March at the Harold Stevens Reserve in Coburg. The 6AM start time proved its worth once again as the early cloud made for ideal running/walking conditions until the sun broke through around 10AM, in conditions almost identical to last year. The last 2 hours saw the temperature quickly climb but everyone was able to knuckle down in the sunny conditions and see it out.
The 6 Hour walk divisions saw record breaking performances compliments of Australian centurions

Clarrie Jack (C4)

and

Michelle Thompson (C58)

. Clarrie, having turned 70 recently, made short work of the current M70 6 Hour walk record of 50.741km (set by fellow Centurioin Robin Whyte last year), powering through to 512.227km. Michelle, a perennial winner here at Coburg, was the fastest walker overall and her winning distance of 55.782km bettered her W45 record distance of 55.731km and was only 83m short of her Australian Open record. We also added a 2 person relay category this year to enable long time supporters

Terry O'Neill (C18)

and

Karyn O'Neill (C45)

to participate. Walking in relay legs of 1 hour, they completed a distance of 50.974km.
And there is plenty to talk about from the other walkers.

John Kilmartin (C67)

was having his first race for a while as he recovers from a foot injury – all good with a tentative 47.338km. First time walkers

Albin Hess

impressed with 44.816 km – I think we will see more of him. NSW walker

Saul Richardson

was just outside his PB of 43.492km with his distance of 43.313 km.

Gary Turner

beat his best of 38.639km with his distance of 39.155km.

Sandra Howorth

beat her best of 41.300km with 42.021km and

Liz Wrigley

walked her first ever ultra with a great 39.160km.
Coburg 6 Hour Walk - Men

1

Clarrie Jack (C4)

VIC

51.227 km

2

John Kilmartin (C67)

VIC

47.338 km

3

Albin Hess

VIC

45.063 km

4

Saul Richardson

NSW

43.313 km

5

Gary Turner

VIC

39.115 km

6

Louis Commins

VIC

37.015 km

7

Ian Hoad

VIC

36.642 km

8

Ken Carter

VIC

23.463 km

Coburg 6 Hour Walk - Women
1

Michelle Thompson (C58)

VIC

55.782 km

2
Sandra Howorth

VIC

42.021 km

3
Liz Wrigley

VIC

39.160km


Coburg 6 Hour Walk Relay



1

Terry and Karyn O'Neill

VIC

50.974 km


VALE Stan Jones: 1925 - 2016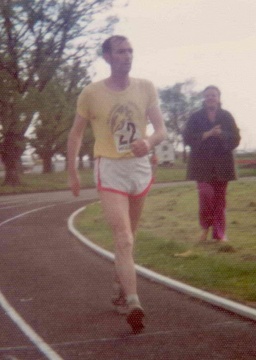 It is my sad duty to advise the death of Western Australia based centurion Stan Jones (C 10) on Monday 11 January 2016.
Stan who was born in England in 1925, was one of the many young men who had to grow up quickly in the final years of the Second World War and the aftermath that followed. It was perhaps not surprising that he joined the British Army as a young man and it was there that he made his 20 year career in the Parachute Regiment ("the Paras").
Stan and Barbara migrated to Australia in the mid-sixties with their family and settled in Melbourne.
He completed his 100 mile walk in 1975 at 50 years of age at the George Knott Athletics Track in Clifton Hill. At that time, his son was ill and he drove across to WA, picked him up, drove him back to Melbourne and then did the 100 miler. This meant that he went for 5 days with literally no sleep - and the last 24 hours of this marathon was the worst of the lot (as we all know). So that makes Stan's 100 miler even more remarkable.
A formidable masters walkers in his later years and an energetic and much loved coach in Perth, he will be sadly missed.
I have updated his centurion biography to now reflect his passing - see
http://www.centurions.org.au/centprofiles/10%20stan%20jones.pdf
.
To his family and friends, we offer our sincerest condolences.



Records in 2016

2016 was a bumper year with lots of records falling to our talented walkers.

Michelle Thompson
Michelle Thompson
Clarrie Jack
Linda Christison
Heather Christison
Linda Christison
Heather Christison
Linda Christison
Heather Christison
Linda Christison
Heather Christison
Simon Butterworth
Michelle Thompson
Michelle Thompson
Michelle Thompson
Michelle Thompson
Michelle Thompson
Michelle Thompson
Val Chesterton
Val Chesterton
Val Chesterton
Val Chesterton
Val Chesterton

6 Hours
50 km
6 Hours
200 km
200 km
200 km
200 km
48 Hours
48 Hours
48 Hours
48 Hours
48 Hours
50 Miles
50 Miles
100 km
100 km
12 Hours
12 Hours
50 km
50 Miles
100 km
12 Hours
24 Hours

W45 All-Comers/Residential
W45 All-Comers/Residential
M70 All-Comers/Residential
Open All-Comers/Residentia
Open All-Comers/Residentia
W55 All-Comers/Residential
W50 All-Comers/Residential
Open All-Comers/Residentia
Open All-Comers/Residentia
W55 All-Comers/Residential
W50 All-Comers/Residential
M45 All-Comers/Residential
Open Residential
W45 All-Comers/Residential
Open Residential
W45 All-Comers/Residential
Open Residential
W45 All-Comers/Residential
W75 All-Comers/Residential
W75 All-Comers/Residential
W75 All-Comers/Residential
W75 All-Comers/Residential
W75 All-Comers/Residential

55.782 km
5:33:50
51.227 km
43:18:31
43:18:31
43:18:31
43:18:31
219.496 km
219.496 km
219.496 km
219.496 km
197.669 km
9:13:03
9:13:03
11:36:29
11:36:29
103.217 km
103.217 km
8:22:23
14:08:58
18:30:00
69.497 km
118.696 km

Coburg
Coburg
Coburg
Canberra
Canberra
Canberra
Canberra
Canberra
Canberra
Canberra
Canberra
Canberra
Coburg
Coburg
Coburg
Coburg
Coburg
Coburg
Coburg
Coburg
Coburg
Coburg
Coburg

06/03/2016
06/03/2016
06/03/2016
18-20/03/2016
18-20/03/2016
18-20/03/2016
18-20/03/2016
18-20/03/2016
18-20/03/2016
18-20/03/2016
18-20/03/2016
18-20/03/2016
16-17/04/2016
16-17/04/2016
16-17/04/2016
16-17/04/2016
16-17/04/2016
16-17/04/2016
16-17/04/2016
16-17/04/2016
16-17/04/2016
16-17/04/2016
16-17/04/2016